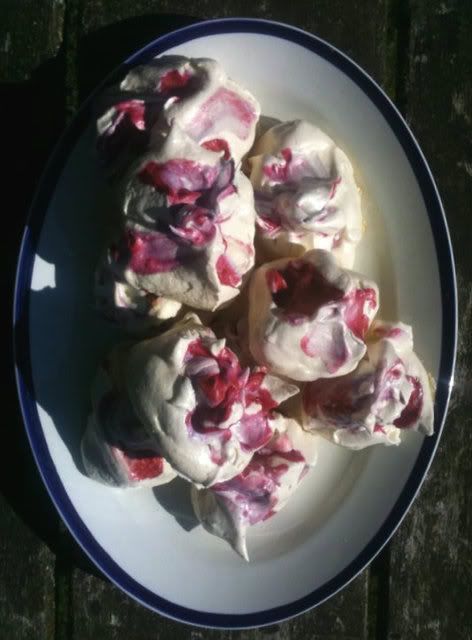 A balmy Saturday and my first weekend home for the summer. Calls for a bit of extravagant baking! That and the 20 or so eggs we seem to have accumulated. Thus meringues were born. I've never made them before but was inspired by the huge bulbous beauties I see on stalls at
The Islington Farmers' Market on a Sunday
and the luscious food stalls that sometimes pop up on a Saturday in the Brunswick Shopping Centre, Bloomsbury. Anyway, thought I'd give it a go and have spent the whole afternoon fretting and gingerly opening the oven and lo, my beauties were born. Against the terse advice of my mother I swirled blackcurrant gorgeousness into them and hoped for the best. Pretty handsome, I reckon!
I used
this recipe from the Good Food website.
It was the simplest recipe I could find with plain old sugar and egg whites, none of that tartar, raspberry vinegar crap.... Might have gone more smoothly and stress free had I bothered with it. But oh well!! Happy days to come and here's a summery song (ish) that makes me jig in a slightly drunken but very happy fashion.