Edinburgh has fast become one of my favourite cities, small and characterful. i went with friends for a few days during the fringe and the place was buzzing, something happening wherever we went.
Milk, a little cafe on Morrison Street
, away from the bustle of the Royal Mile, proved to be a gem discovered at just the right time ask our stomachs began to cry for breakfast.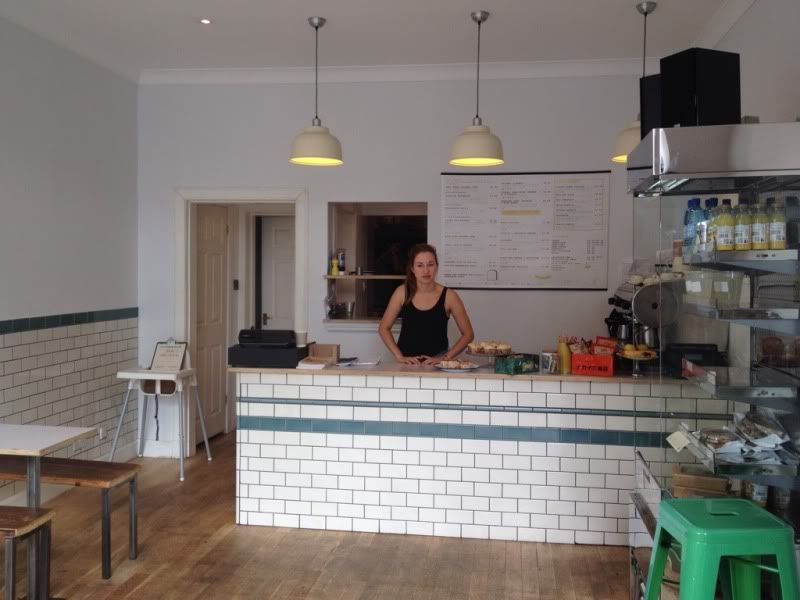 The cafe is light yet cosy, the wooden furniture contrasting the clean, bright tiles and the shiny coffee machine. Cake stands brimming with sumptuous cupcakes and slabs of tasty looking loaf cakes sit on the counter and there is a fridge with fat sandwiches for under £4 generously filled with interesting ingredients like Chorizo & Manchego, Compté & Pastrami. That is probably the thing that stood out the most about this place; their clear enthusiasm for simple food well executed and full of flavour, liberally seasoned with spices fresh herbs, all for a reasonable price and available to take away.
I had the
Chicken Chiang Mai Noodles
, very tasty indeed, and loved the enamel tableware. Unfortunately we arrived too late for
the breakfast menu
which ended at 11.00, however judging by the food that we ordered and the menu on the website, this would be the place for a
tasty tasty breakfast
.
I originally stumbled across this café on this
this Guardian list for 10 of the best hangover cafés in Edinburgh
.